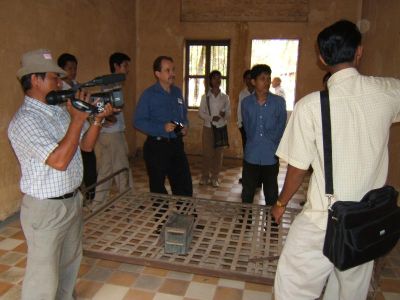 In November 2005 CCRJ Executive Director Barry Lowe travelled to Cambodia to meet with local journalists.
*****************
Cambodia's long search for justice for victims of the genocidal Khmer Rouge will take a step closer next month when several key figures from the Pol Pot regime go on public trail in Phnom Penh.



The beginning of the tribunal into the massacres of the 1975-79 Khmer Rouge period will be the culmination of a long campaign by the international community - led by the United Nations - to persuade the current Cambodian government to agree to the trials.

Among those to face genocide charges is Duch, commander of the notorious SS-21 prison camp in Phnom Penh where tens of thousands were tortured before being taken out to execution grounds on he edge of the city: Cambodia's killing fields.


Pol Pot's former number two Ieng Sary is also expected to face charges despite earlier being pardoned by the current Cambodian government, led by another ex Khmer Rouge leader Hung Sen.

Most Cambodians have applauded the announcement that the tribunal will begin in January, although many say it should have been held earlier while Pol Pot and many of his deceased former henchmen were still alive.

Some Cambodians, however, are unconvinced about the need for a trial 27 years after the Khmer Rouge's brutal tyranny ended. The fear the tribunal could prove destabilising for Cambodia's fragile democracy.



The tribunal will hear evidence only against senior figures in the Pol Pot regime. Lower ranking functionaries will not be charged. Those convicted will not face the death penalty; the maximum sentence will be 20 years' imprisonment.

The CCRJ will monitor the tribunal, updating these web pages as the hearing progresses.

SCROLL DOWN FOR ADDITIONAL PHOTOGRAPHS OF THE CCRJ'S VISIT TO CAMBODIA