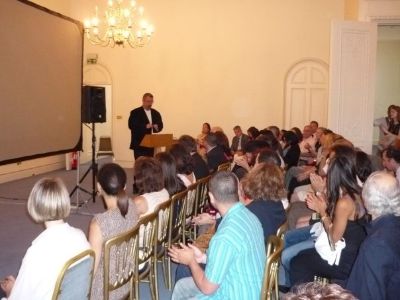 PIC: Steve Desmond addresses The Foreign Press Association July 2009:
http://www.foreign-press.org.uk/showevent.pl?id=381

The Centre for Conflict Resolution Journalism (CCRJ) - Located in the City of Belfast, Northern Ireland & London, - is dedicated to supporting and promoting ethical, objective and unrestricted documentary filmmaking & journalism that contributes to the peaceful resolution of international conflicts. As part of its strategy for conflict resolution, the CCRJ is dedicated to propagating, supporting and conducting journalistic investigation into global political corruption, unethical corporate practice, and international human rights abuse. The CCRJ is dedicated to democratic reform. The CCRJ is a registered charity in the United Kingdom and a registered Non-Profit Limited Company in Northern Ireland.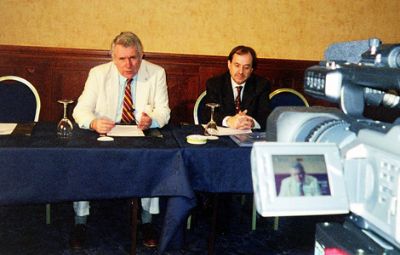 Photo: CCRJ Co-founder Barry Lowe shares a table with Martin Bell OBE at the recent CCRJ conference on war reporting entitled "Peace or Patriotism: Journalism, War and the Search for Truth." CLICK HERE FOR MORE ON THE CONFERENCE.

The Centre for Conflict Resolution Journalism is:
International - concerned with conflict situations anywhere in the world
Broadly based - linked to a wide-range of government, non-government and academic institutions
Community focused - working within communities to resolve conflict between communities
Professionally engaged - closely linked to the profession of journalism
Action oriented - emphasising pro-active interventions
Multi-sectoral and multi-disciplinary - drawing on expert opinion and advice from a range of relevant disciplines
Actively engaged - providing a platform for dialogue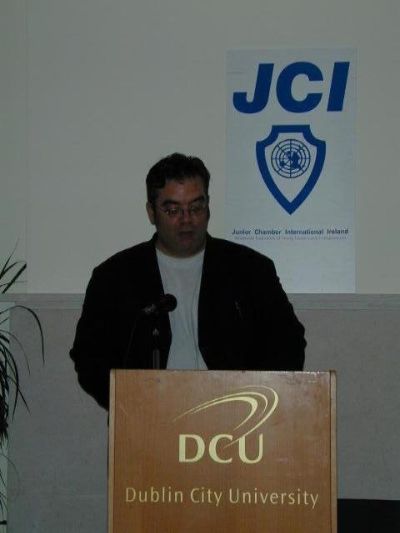 Photo: CCRJ Co-founder Stephen Desmond addresses Dublin City University after receiving a certificate of recognition on the closing evening of the DCU Mentorship event. Stephen is a graduate of Dublin City University.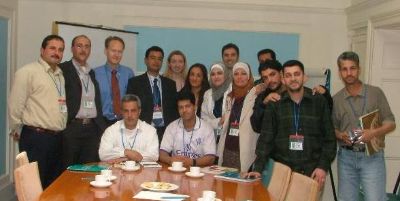 Photo: A delegation of Palestinian journalist attend the recent CCRJ seminar on reporting conflict in the Middle East.

SEE "RECENT EVENTS" PAGE FOR ADDITIONAL INFORMATION.
CLICK HERE: "RECENT EVENTS"

In the past year the CCRJ has been active in numerous countries around the world, assisting democratic reform and propagating the development of ethical media as part of the orgainisation's strategy for conflict resolution. Click here for descriptions of CCRJ activities in: Cameroon; Sarawak; Saudi Arabia; Lebanon; Azerbaijan; Palestine; Aghanistan