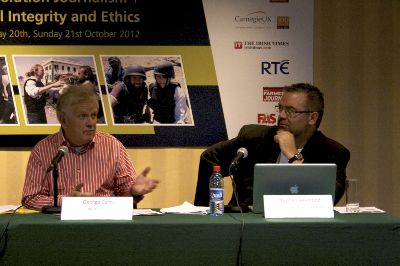 Pic (Left): Oct. 21st, 2012-CCRJ Co-founder Steve Desmond interviews George Carey (founder of BBC's Newsnight programme) at The Cleraun Media Conference in Dublin.

The Centre for Conflict Resolution Journalism (CCRJ) - Located in the city of Belfast, Northern Ireland and in London, England - is a research centre and registered charity dedicated to exploring the role played by the international media in wars, conflicts and disputes about human rights. The centre is dedicated to studying, supporting and promoting ethical, objective and unrestricted documentary filmmaking and journalism that contributes to the peaceful resolution of international conflicts and which supports human rights and democratic freedoms. As part of its strategy for conflict resolution, the CCRJ assists in the development and commissioning of academic research projects and conferences. The centre also supports the development and commissioning of documentary films dedicated to examining the range of causes of global conflicts such as: ethnic & religious divisions, unequal "information-flows" between global regions, international human rights abuse, political corruption, unethical corporate practice, etc. The CCRJ is dedicated to assisting democratic reform and the development of democratic independent media in areas of the world affected by human rights abuse and various forms of corruption.


The CCRJ is a Registered Charity and a registered Non-Profit Limited Company in Northern Ireland.

Trustees of the Centre for Conflict Resolution Journalism include:
John Hume, international statesman and winner of the Nobel Peace Prize; Michael D. Higgins, President of Ireland; William Schabas, Director of the Irish Centre for Human Rights; Mary Lawlor, Executive Director of Front Line.

Founding Directors of the Centre for Conflict Resolution Journalism include:
Barry Lowe, journalist, academic, documentary filmmaker, currently Senior Lecturer in the School of Media at Thames Valley University. Click for full bio.
Stephen Desmond, academic, video journalist and independent filmmaker, currently Senior Lecturer & Production Coordinator, Southampton Solent University. Click for full bio.
Please click here to see a set of over 50 professional references, recommendations and endorsements for Stephen Desmond: http://uk.linkedin.com/in/stephendesmond
Dr. Ronan Lynch, journalist & historian. Click for full bio.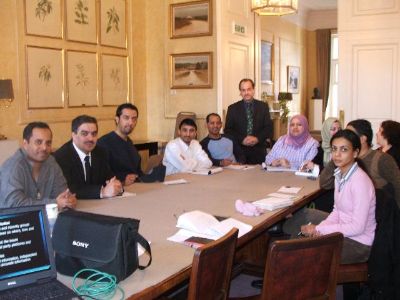 The formal mission of the CCRJ is to promote the use of news media for the public benefit as a means of promoting reconciliation and peace between conflicting groups by:

1) Developing and promoting agreed standards and principles for reporting on conflicts in ways that defuse antagonisms rather than inflame them ("conflict resolution journalism")

2) Advancing education and research on conflict resolution journalism and the publication of the useful results of that research

3) Promoting the use of conflict resolution journalism in conflict -prone situations within and between nations

The news media play a prominent role in the formation of public opinion and attitudes. Their influence is particularly powerful during times of tension between nations and between communities, when the media often contribute to antagonisms by amplifying public perception of an enemy threat. But the media can also be a force for good in times of tension. The media can resist government and corporate efforts to control their output. The media can also reject ever-more-pervasive commercial imperatives in broadcasting in favour of a robust humanitarian and human rights agenda. This agenda must be based on a solid code of public service ethics, and the primacy of objectivity, truth and fairness. The media can be a vector of democratic reform. Journalists, by avoiding inflammatory reporting, by warning of the consequences of conflict, by exposing political corruption and corporate wrongdoing, and by placing humanitarian and human rights issues at the core of their reporting, can support efforts to avoid and resolve conflicts and encourage their publics to find peaceful alternatives.

TOP PHOTO: CCRJ Co-founder Stephen Desmond (right) interviews George Carey (Founder of BBC's Newsnight in Dublin October 2012
CENTRE PHOTO: CCRJ Co-founder Stephen Desmond addresses The Foreign Press Association in July 2009

CHECK ON "RECENTS EVENTS" FOR A FULL DESCRIPTION OF RECENT CCRJ ACTIVITIES.
CLICK HERE:"RECENT EVENT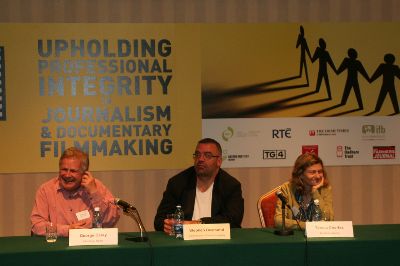 PICTURE: October 16th, 2010: Steve Desmond interviews the Founder of BBC's Newsnight George Carey and filmmaker Theresa Cherfas, and chairs a conference panel entitled "Ethics in Documentary Filmmaking" at the international Conference "Upholding Professional Integrity in Journalism & Documentary Filmmaking".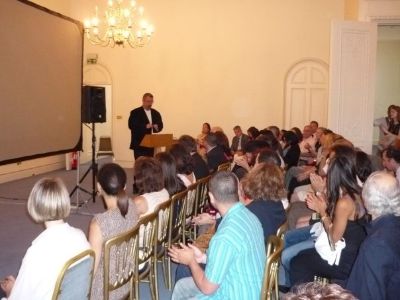 PICTURE:
Steve Desmond addresses The Foreign Press Association in July 2009. Click on RECENT EVENTS

See also the website of The Foreign Press Association:
http://www.foreign-press.org.uk/showevent.pl?id=381










In the past year the CCRJ has been active in numerous countries around the world, assisting democratic reform and propagating the development of ethical media as part of the orgainisation's strategy for conflict resolution.
Click here for descriptions of CCRJ activities in: Cameroon; Sarawak; Saudi Arabia; Lebanon; Azerbaijan; Palestine; Aghanistan